"Thank you for the excellent work performed by your company last week during the electrical installation of the referenced job. As soon as it became evident that a separate motor starter and fused disconnect were required, you took fast action to get the parts so the job could be completed. I appreciate your get-it-done attitude."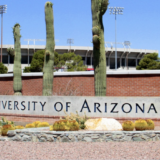 "Thank you for making the restoration of the fire alarm system in Coronado Hall your highest priority as soon as it was discovered to be damaged, doing so required your personnel to work day and night, and through the weekend to find the problem, fix it and restore the fire alarm service ready for construction personnel to return to work three days ahead of your projected schedule. Thank you for recognizing the urgency of the situation, and working extraordinary overtime hours to avoid a serious impact on the construction schedule."
Facilities Project Manager
"I want to personally thank you and your outstanding team for the successful project which was completed this past week during the holiday shut down at the UA Tech Park. The quality workmanship, commitment to timely delivery, and pure dedication to success was clear throughout the project. Freddy Carlisle, Chuck Snell, Jeff Gregory and Mike Brown created an outstanding work plan in August, and provided continuous communication. This allowed for the best possible working conditions in this critical process factory, which is one of the most difficult working environments. Your crew leaders and countless others on the Faulk Electric team deserve a special thank you for their hard work through the holiday season.
Director of Planning, Facilities and Construction
"I wanted to take a moment to thank you and your team for the work you performed at IBM over the Thanksgiving weekend. I received great feedback regarding the care and detail exhibited during the transformer replacements. I really appreciate your dedication and results."